I was powerless against the draw of casting on for socks in my new
STR yarn
in Sapphire After flipping through lots of patterns, both online and in books and throughout the house, I decided on an unusual pattern from Knitty:
Target Practice
from the Spring Issue '09. This is the first photo from the Knitty.com pattern page, designed and photographed by
Kellie Pederson
.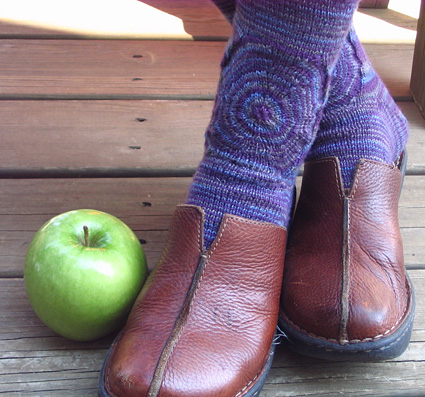 What is nice about this pattern is that I will have the opportunity to practice several new skills: Toe up,
Judy Becker's Magic Cast On
, circular inserts into a pattern, and a stretchy cast off at the top of the cuff.
All in this great variegated yarn from Blue Moon Fibers Arts
. What could be more fun? What I find strange is that when I did a Ravelry pattern search to see if there were any pitfalls to this pattern, there were only 37 projects to date and all the comments were favorable. I cannot understand why more folks have not done this pattern because most of the comments said the pattern was fast and easy, and the only negative was weaving in some loose ends.
The third time was the charm and now I am happily knitting away on the toe of the first sock. I thought momentarily about trying 2 at a time, but decided against it since there would be too much to keep track of on each sock with the short row heel.
See how nice the toe looks!
To be continued.